Swimming is prohibited in order to preserve the fauna and flora, the Ambléon lake brings together the richness of the Bugey, both geological, landscape and ecological (fauna, flora, habitats).
The lake is a real natural and landscape jewels, it is managed in such a way as to preserve the biodiversity it hosts.
Wild site, fishing place, frequented by the Vouivre, a mythological creature, has given rise to many legends.
To see: the orientation table, located a few kilometers below the site, offers a panoramic view over the valley and the Alps.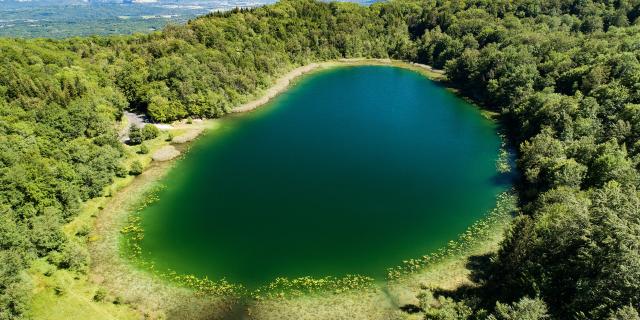 Fishing
Ideal for fishing, the clear waters of this circular mountain lake are a real invitation to practice this leisure activity. The lake's fish: carnivores, trout, perch, pike, white fish, carp.
As the lake is private, the purchase of a specific fishing card is mandatory.
Card sales point: tourist office in Belley, MDC Sports and Leisure in Artemare and Ambléon town hall.
Cycling
Located a few kilometers from Col des Fosses and a few kilometers from Col de Porte, the roads with little traffic in this region offer a fabulous playground for cyclists. The climb from Appregnin rewards with a lovely view on Mont Blanc on a clear day and access to Lake Ambléon.
For the most courageous cyclists, a brotherhood named Toqués du col de Portes challenges you to climb col de Porte several times in a day by its different sides. Learn more.